Riding with Schwinn and Mongoose  // ecommerce, Amazon brand experience
As creative lead for the account, and tapping into one of my person passions, I played a vital part in developing the elevated experiences of the Schwinn and Mongoose brands on Amazon for Pacific Cycle. 

Over 18 months, we transformed their PDP (Product Detail Page) content, and positioned both brands as industry frontrunners across multiple product categories. This endeavor aligned with one of the most profitable sales periods for each brand.
Our optimized creative strategy allowed us to achieve a workflow efficiency with an increase in velocity and response times. This up-levelled our capacity to deliver and allowed us to tackle more volume than anticipated. 
After successfully completing an initial scope of work for helmets, we were asked to roll out an expanded strategy for a broad range of Schwinn's premium e-bikes, road and mountain bikes. We created a visual system that differentiated itself with a new look and feel, and leveraged the enhanced capabilities of Amazon's A+ Standard and Premium pages to present the brand in an elevated manner.

To create an elevated experience and engage customers above the fold, we experimented with ways to enhance the content within the Standard A+ product experience, such as developing 360º spin imagery to present the products more dynamically.
To manage consistency at scale, we devised a modular system of expressing the brand across several product categories for a wide range of riders— kids, juniors and adults.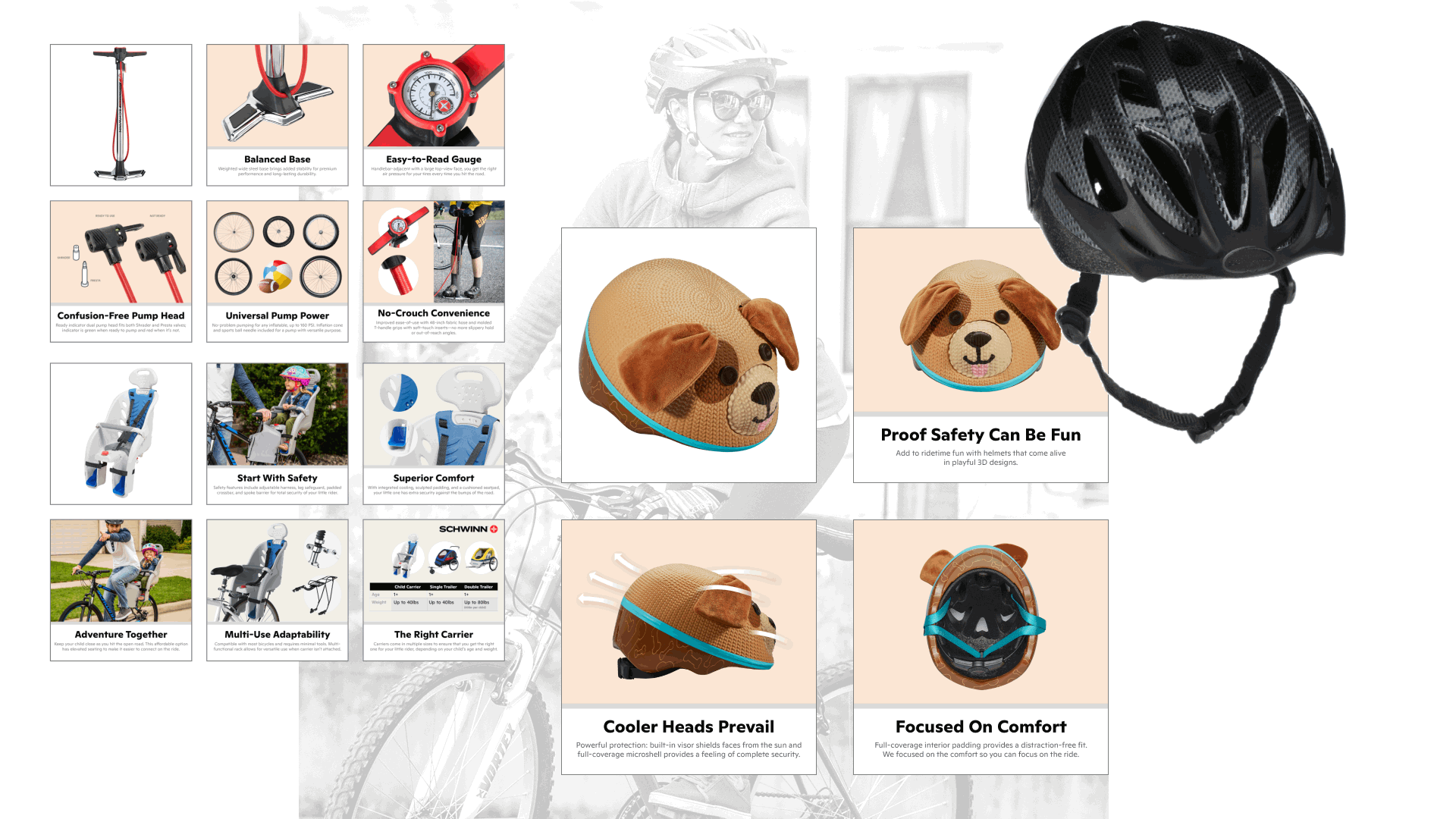 When we were invited to focus on Mongoose, we were eager to embrace the energy and attitude of the brand and incorporate it into the brand experience on Amazon. Not to mention marvel at and highlight some of the spectacular photography and talented riders. 
After collaborating on typography, color palette, and photo selection and treatment, we produced an array of Amazon A+ Premium pages and above-the-fold companion assets for Mongoose team.